The Lotus Flower grows in the deep mud, far away from the sun. But, sooner or later, the Lotus reaches the light becoming the most beautiful flower ever. The Lotus flower is regarded in many different cultures, especially in eastern religions, as a symbol of purity, enlightenment, self-regeneration, and rebirth. Its characteristics are a perfect analogy for the human condition: even when its roots are in the dirtiest waters, the Lotus produces the most beautiful flower.
"And the day came for the risk it took to remain tight inside the bud was more painful than the risk it took to blossom." ~ Anais Nin

My job as your counselor is to connect your personal (individual or family) story and unique needs to treatment that supports and enhances your well being and works for you. All services share a common beginning that's all about MEETING YOU WHERE YOU'RE AT.
As much as possible, in all areas of life, we want to catch a problem at the earliest stages possible when interventions and treatment are short term, minimal and before an issue becomes severe, before it is "hard wired" in.
Some examples of when to turn to counseling
Help! I have a teenager and…
I found pot/drugs.
I think she might be cutting herself/throwing up/drinking.
I don't think this (anger, isolation, moodiness, sadness) is normal.
I worry about this boy/girl/peer group my child is with.
Counseling Services For Teens and Families
Parent Consultation and Coaching
Providing Education
Parent Support
Adolescent and Family Therapy
Making Connections in the Community to Support Change
I think I need help…
I'm concerned about my/my loved one's drinking/drug use/eating behavior.
I don't think this (anger, isolation, moodiness, sadness or worry) is normal.
I spend so much time helping everybody else, there's no time left for me.
Counseling Services for adults
Assessing the Situation
Identifying Strengths/Setting Goals
Providing Education About The Issue
Individual Therapy
Family Therapy and Support
Getting Connected to Support Your Change
"When we know better, we do better." ~ Maya Angelou
If you find yourself stuck in the mud and drowning in muddy waters, when what you are doing meets that definition of insanity. You know, "when you keep doing the same thing over and over again expecting different results." Then counseling can help you get unstuck, overcome harmful patterns of thinking, feeling and doing and resume your process of growth "through the waters".
Our work together will include a whole person (MIND, BODY, and  SPIRIT) approach
"What you are is
what you have been.
What you'll be is
what you do now."
~ Buddha
Evidence based strategies that include:
Cognitive Behavioral Therapy
Developed by Dr. Aaron T. Beck, Cognitive Therapy (CT), or Cognitive Behavior Therapy (CBT), is a form of psychotherapy in which the therapist and the client work together as a team to identify and solve problems. Therapists use the Cognitive Model to help clients overcome their difficulties by changing their thinking, behavior, and emotional responses. Cognitive therapy has been found to be effective in more than 1000 outcome studies for a myriad of psychiatric disorders, including depression, anxiety disorders, developmental trauma, and substance abuse, among others.
Motivational Enhancement Therapy/Motivational Interviewing
Collaborative, dynamic, conversation between client and counselor which strengthens a person's own motivation and commitment to change.
12 step recovery model
From working in the addiction field in both inpatient and outpatient settings I am familiar with 12 step recovery principles and actively support and use these strategies in my practice.
EMDR
Given the worldwide recognition as an effective treatment of trauma, you can easily see how EMDR would be effective in treating the "everyday" memories that are the reason people have low self-esteem, feelings of powerlessness, and all the myriad problems that bring them in for therapy. (EMDR Institute, Inc.)
EMDR (Eye Movement Desensitization and Reprocessing) is a psychotherapy that enables people to heal from the symptoms and emotional distress that are the result of disturbing life experiences.  Repeated studies show that by using EMDR people can experience the benefits of psychotherapy that once took years to make a difference. There has been so much research on EMDR that it is now recognized as an effective form of treatment for trauma and other disturbing experiences by organizations such as the American Psychiatric Association, the American Psychological Association and the Department of Defense.
Mindfulness
Science is now revealing how the flow of thoughts actually sculpts the brain. By combining breakthroughs in neuroscience with insights from thousands of years of practice, you, too can use your mind to shape your brain for greater happiness, love, and wisdom. Buddha's Brain, Drs. Rick Hanson and Richard Mendius
Trauma Recovery
I utilize a 3 stage process which includes: 1)Establishing Safety; both externally and internally. 2) Working through the Trauma; after safety is established and, we both agree to move forward, we begin to reprocess the trauma using one, some or all of the strategies described above while you also begin to: 3) Reclaim Your Life !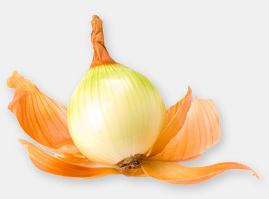 Addiction Services
Peeling The Onion
Recovery from addictions has been likened to "peeling away the layers of the onion." The journey typically comes with a lot of tears. But as each layer is exposed, there is a new awareness and opportunity to grow closer to true self. As the layers peel away, one finds life becoming richer and more "flavorful."
Addiction Treatment Services
Assessment
May include clinical interview with the individual and concerned family and friends, screening tools such as MAST or AUDIT, assessment using the GAIN (Global Assessment of Individual Needs), feedback and planning.
Early Intervention and Treatment for Adolescents and Families
Assessment, education and intervention strategies provided to the adolescent either individually or in a group setting, family counseling, parent support and family prevention/recovery planning.
Motivational and Risk Reduction Strategies
Person centered approaches that help the individual identify the impact of use on self and others and supports positive change.
Family Support Services
Education, consultation and coaching, recognizing the impact of substance abuse disorders on self and the family, working towards personal and family healing.
Recovery or Post Residential Treatment Support
Support for ongoing recovery which is "person driven", based on your unique experience, holistic, addresses dual diagnosis, trauma recovery, and your own unique individual or relational needs.
Chronic Pain Medication Management and Dependency Counseling
Assessment of both pain and problem use of pain medication, strategies to reduce pain and addiction potential using best practice protocols, finding balance and reducing suffering from chronic pain.
It's CONNECTING where you have been,
and MEETING you where you're at
to SUPPORT you in your journey
to WHERE YOU WANT TO GO. Recovery is defined by the Department of Health's Substance Abuse and Mental Health Services Agency (SAMSHA) as a process of change through which individuals improve their health and wellness, live a self-directed life, and strive to reach their full potential.